We strive for continuous improvement in the unrelenting pursuit of an outstanding safety culture. We believe it is every employee's responsibility to promote a safe and healthy work environment.
Watch this video to see how we are committed to providing our employees a safe and health environment to work in.
Case Farms' safety vision is guided by our "Road Map for Safety Success." This is a plan of action that defines the direction of the safety program, sets measurable goals for the year and tracks the Company's progress against those goals.
We have implemented many practices which can only be considered state of the art. Case Farms strives to create a work culture and environment where our employees feel valued and safe.
Following are a few examples of initiatives and practices currently in place: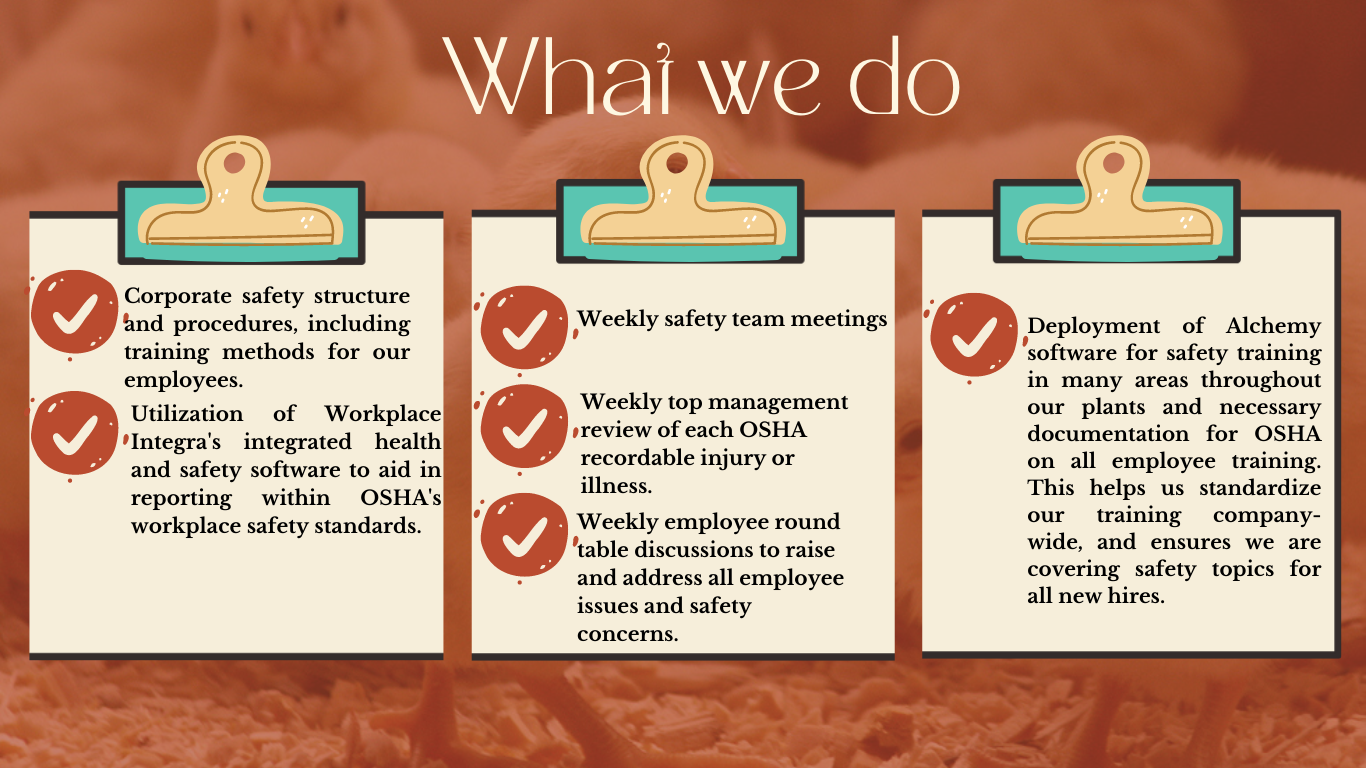 In addition, we regularly evaluate our corporate safety structure and procedures, compliance reporting and training methods, and conduct safety audits of all facilities and make improvements when and where needed.
Our dedication has not gone unnoticed. The industry has acknowledged our dedication and successes in our safety program. In the past five years we have received more than a dozen safety awards from notable organizations including the American Meat Institute and US Poultry & Egg Association.
Numerous times over the years, Case Farms has achieved significant safety milestones. In many of our Ohio and North Carolina facilities, we worked more than a million consecutive hours without experiencing an Occupational Safety and Health Administration (OSHA) recordable lost time accident (LTA). In 2017, the Goldsboro processing facility achieved 2 million hours worked without a LTA, and in 2018, reached the 3 million hours worked milestone.
It is our mission to keep worker safety our highest priority. Our goal in this ongoing process is to ensure that our Company becomes an industry leader in worker safety.