Case Farms was founded by Thomas R. Shelton in December 1986. After gaining over 23 years of management experience in the poultry industry, Mr. Shelton realized his goal of owning his own company and purchased a small family-owned poultry operation in Ohio.
The Company was called Case Egg & Poultry and included a processing plant in Winesburg, Ohio, a hatchery in Strasburg, Ohio, and a food distribution facility in Akron, Ohio. In its first year of operation, Case Farms processed 135,000 chickens per week, had 140 team members, and produced 22 million pounds of poultry products.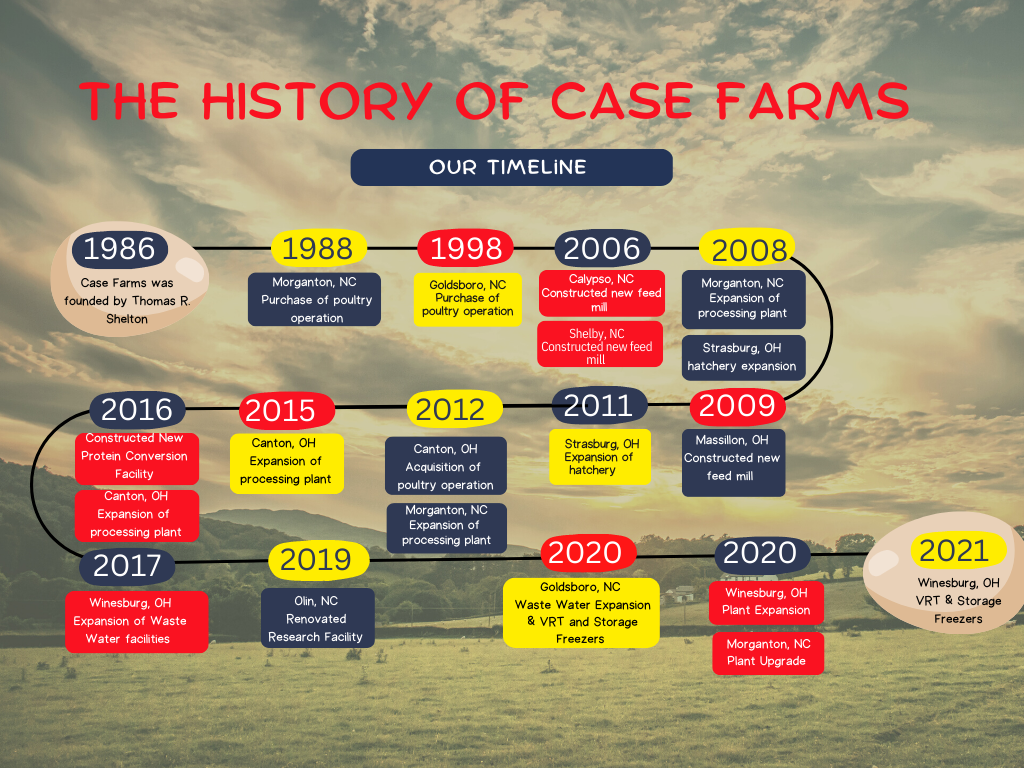 A core component to Case Farms' quality commitment is to ensure the welfare and health of our chickens. All chickens are farm-raised cage-free and fed a diet that is predominantly corn and soy-based with no added hormones. We follow the National Chicken Councils' poultry welfare guidelines and all our locations are routinely audited to ensure compliance. Specially designed environmental management and disease prevention programs help ensure the health and well- being of the birds in our care. Should the use of antibiotics become necessary, they are used under the direction and supervision of a licensed and accredited Case Farms Veterinarian. We do not use any antibiotics that are not licensed and approved for use in food animals by the FDA or USDA. Case Farms does not use Cephalosporins or Quinolones, which have been defined as critically important to humans. Healthy chickens are directly related to safe food supply and we strive daily to assure both.


Quality Commitment
Case Farms is committed to the highest quality product making every effort to surpass our customers' expectations. Quality starts with our grower's desire to produce a superior bird and continues as the driving force in our processing facilities. Working in conjunction with USDA Food Safety Inspection Services, our Quality Assurance Departments follow internal HACCP and Food Defense programs to ensure a safe and high-quality food product for the consumer.
We have internal control points to ensure the product is acceptable at each stage of the process and continually monitor the finished product to validate it meets customer specifications as well as Case Farms specifications. As an additional monitoring tool, Case Farms has accredited auditing firms, as well as customer auditors, visit the complexes to conduct audits from grow-out to distribution. These audits confirm Case Farms commitment to food safety and quality and are a valuable tool in our efforts to make continual improvements.
Our management staff pledges superior quality in all that we do and we look forward to serving you!
Quality Policy
We shall meet or exceed our customers (internal and external) expectations in product quality and service.
We shall provide wholesome products of superior quality to our customers that are cost effective to manufacture in an operationally efficient manner.
We are committed to continuous improvement opportunities that enhance our customers' experience with our product and services.
Product quality is a shared value of all team members