Chicken Agrodolce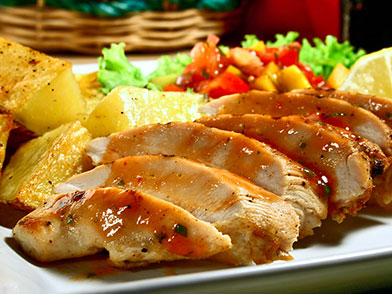 Ingredients
1 whole chicken, cut into 8 pieces
1 TBLS olive oil
1/2 teaspoon salt
1/2 teaspoon black pepper
1 onion, diced finely
1 carrot, peeled and diced finely
1 celery stalk, diced finely
4 cloves garlic, minced
1 tablespoon dried rosemary, minced or crushed
1 teaspoon dried oregano
1 can (14.5 oz.) diced tomatoes, drained
1 red bell pepper, julienned
1 green bell pepper, julienned
1 yellow bell pepper, julienned
3/4 cup white wine
2 tablespoons balsamic vinegar
Cooking Instructions:
In large Dutch oven or ovenproof, lidded skillet, warm olive oil over medium high heat. Season pieces of chicken with salt and pepper. Place chicken in pan in single layer (in batches, if necessary), and cook chicken, turning, until well browned, about 10 minutes per side. Remove chicken from pan and set aside.
Preheat oven to 325 degrees.
To pan on stove, add onion, carrot and celery; saute until slightly softened, about 2 -3 minutes. Add garlic, rosemary and oregano; sauté one minute more. Add tomatoes and peppers; cook 3 - 4 minutes. Add wine, increase heat to high and boil until liquid reduces by half, about 8 minutes. Add vinegar.
Return chicken pieces to pan, cover, and place in oven. Cook chicken until tender and cooked through, about 45 minutes.